Spring is coming closer and closer and I am getting so excited to get out of the house, plant some flowers and get my front door looking all pretty and summery! Every year I brighten up the entrance with flowers but I thought this year I would like to do a little more. Here are some of my front door curb appeal dreams and ideas you can use for your porch.
Lanterns, Potted Plants and Hydrangea from A Gathering Place
I have quite a few lanterns just kicking around my house so this would be a wonderful way to put them to good use. Add in some solar pillar candles so you don't have to worry about batteries or turning them on or off. The hydrangea is also my favourite plant, looks amazing and is so nice and full that it is the perfect statement piece to have on each side of the door.
Boxwood Urns from Down To Earth Style
LOVE this idea! Not only will it look fabulous but she actually used preserved boxwood so it will last forever and always look great! Visit Down To Earth Style because she has the DIY details on how you can create this for your own home.
Front Entrance Vines From Pottery Barn
If you aren't in the DIY and don't want to mess around with creating this on your own you can actually order these exact arrangements from Pottery Barn with REAL Live Ivy. My favourite is the tall ivy spiral topiary. So beautiful and such a great conversation piece to have at the entrance or on your patio.
Modern House Number DIY from A Beautiful Mess
A pretty fabulous and unique way to display your house numbers. I can pretty much guarantee that you won't have anyone on your block with a house number just like yours. You can visit a beautiful mess for the DIY details on how to make this.
Colour Coordinated House Numbers from Better Homes & Gardens
There are a few things I really like about this design, 1. you can make it match your home or even your door if you have a coloured door. I also really like how the numbers aren't flush against the wood. That seems pretty minimal but it makes it stand out even more and add extra dimension.
House Number with Built In Planter From Shanty 2 Chic
This may be my favourite of them all. I think it is really great that you can bring in this extra element of a planter box. In the summer fill it with your favourite plants and in the winter bring in some season decor like lights and snowflakes. Think about halloween even! Oh so much fun to be had.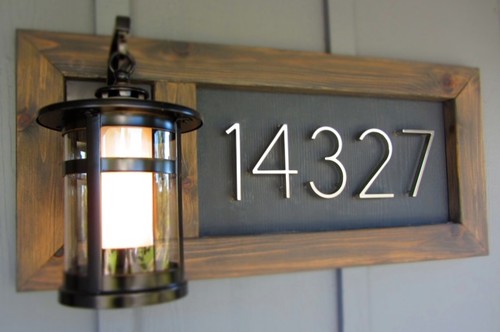 House Numbers and Lights by the Modern Bungalow Company
These was found on a builders site but it would make a great project to create. The way my house entry is laid out my numbers are close to the light so I am either going to attempt this one or the planter since those are my favourites!
Front Entrance Lights!
There are so many options and styles I thought I would collect a few and a bit of variety. All the lights I selected are available at home depot. If you look at my house lights they are old (they came with the house) and what I would think belong on the house of the 7 dwarfs. Yes I am serious… I have always disliked them. This year is the year to change that for sure.
Such a fun way to bring in a little personal to your front entrance decor!
Which front entrance curb appeal inspiration are you planning on using for your home?
J.
(Visited 5,422 times, 1 visits today)